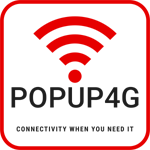 P&C Communications have always relied upon good connectivity to deliver project specific solutions to our customers.  We work with many services providers to ensure reliable, strong performing and cost-effective connectivity to meet their requirements.
Over the last two years demand has meant that we have been delivering redundancy and short-term connectivity using the 4G mobile network through relationships we have with the main UK providers.
Typically, solutions have utilised a single 4G data SIM and router for connectivity to both business and residential customers requiring short term internet connections, so we have developed the popup4g.com rental model for residential customers who need this on a short-term basis.
Now we have demand for business requirements for up to 300Mbps Internet connectivity using multiple SIMs to provide a single aggregated pipeline to the Internet for short term rental for popup connectivity requirements.
Here is what one of our customers had to say
"Since the first lockdown ended and filming was allowed to continue again, we have taken on a lot of live-streaming business. A primary requirement of these productions is that they go out live. There is simply no latitude for even a second of downtime.

We had a client who was streaming four cameras to a remote location. They already needed more upstream bandwidth than we could guarantee, and they needed to know there was back up in the case of failure.

With this in mind and knowing we were at the extent our technical know-how we engaged P&C Communications to oversee a solution. By combining our broadband and six 4G SIM cards (operating over four different networks) through a hub we were able to provide 120Mbps up ALL day long. If one of the Sim cards failed there were five others and the broadband to pick up the slack. Impressive! "
Our client was happy and has already said they will use us again. So we are happy too.
Contact us if you are interested in talking to us about your business requirements or visit popup4g.com if you have a residential requirement.